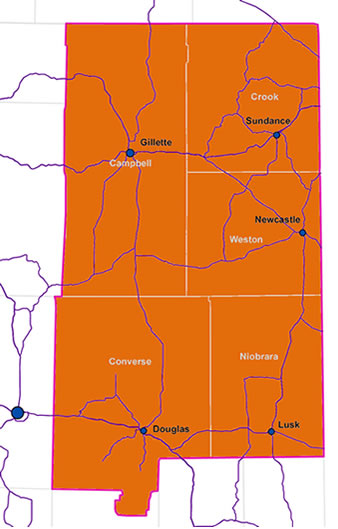 The Thunder Basin Grasslands Prairie Ecosystem Association is a non-profit organization which provides private landowner leadership in developing a responsible, science-based approach to long-term management of member's lands. Established in 1999, the Association was incorporated as a non-profit organization in 2002.
Regular membership in the Association is open to all landowners in the Thunder Basin area. Associate membership is open to anyone who supports the conservation focus of the Association. An individual, corporation, or any other legal entity may be a member.
Regular members of the Association seeking coverage under the conservation strategy must own or have management control of property within the five northeastern Wyoming counties of Campbell, Converse, Crook, Niobrara, and Weston. The five-county area is shown in orange on the map to the right.
If you believe you are qualified for membership in the Thunder Basin Grasslands Prairie Ecosystem Association please contact us for more information about joining.
Contact the Thunder Basin Grasslands Prairie Ecosystem Association